The Sopranos Season 4 Episode 13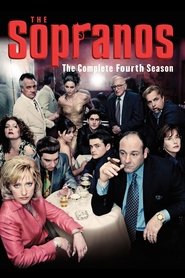 The Sopranos Season 4 Episode 13
Tony and Johnny Sack prepare to move against Carmine, but Tony second-guesses the deal and considers another option. Meanwhile, Tony haggles with a lawyer when he decides to buy a beach house as a gift for Carmela.
Junior finds that his legal worries are over when the judge makes a ruling in his case, and Christopher returns clean and sober from rehab.
Carmela reaches the breaking point and throws Tony out of their home when Tony's ex girlfriend taunts her over the phone. Tony resists at first, but eventually decides that its best for his family if he leaves.
Serie: The Sopranos
Director: John Patterson
Guest Star: Bruce Altman, Carl Capotorto, Curtiss Cook, Cynthia Darlow, Dan Grimaldi, John Ventimiglia, Judith Anderson, Karen Young, Liz Larsen, Matt Servitto, Max Casella, Richard Portnow, Robert LuPone, Tom Aldredge, Tony Darrow, Tony Lip
Episode Title: Whitecaps
Air Date: 2002-12-08