The Sopranos Season 1 Episode 4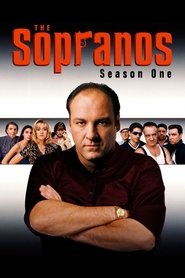 The Sopranos Season 1 Episode 4
When Jackie Aprile loses his battle with cancer, Tony and his crew agree to give Junior what he wants. However, they have ulterior motives.
Christopher goes from fear to anger when he discovers Brendan's fate.
Tony sends a cop on his payroll to investigate Dr. Melfi, while Carmela gives him an ultimatum about his therapy.
Serie: The Sopranos
Director: John Patterson
Guest Star: Al Sapienza, Annika Pergament, Anthony DeSando, Anthony Tavaglione, Corrine Stella, Daniel Hilt, Drea de Matteo, George Loros, Guillermo Díaz, James Spector, Jerry Adler, John Arocho, John Heard, Joseph Badalucco Jr., Mark Blum, Michael Buscemi, Michael Rispoli, Michele DeCesare, Oksana Lada, Raymond Michael Karl, Sal Petraccione, Sharon Angela, Shawn McLean, T.J. Coluca, Theresa Lynn, Tony Darrow
Episode Title: Meadowlands
Air Date: 1999-01-31