The Sopranos Season 1 Episode 13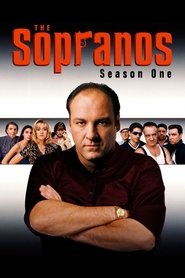 The Sopranos Season 1 Episode 13
Tony begins to retaliate for the attempt on his life, but he is stunned when he learns that his mother and uncle were behind it.
Junior tries to escape when he suspects that Tony will come after him, but the Feds intervene before Junior can get away.
Livia pits Artie against Tony in a last-ditch effort to save herself.
Carmela finally lays down the law with Father Phil.
Serie: The Sopranos
Director: John Patterson
Guest Star: Al Sapienza, Annika Pergament, Candy Trabuco, Drea de Matteo, Frank Pando, Frank Pellegrino, Frankie Dellarosa, Gene Canfield, George Bass, George Loros, John Aprea, John Ventimiglia, Joseph Badalucco Jr., Kathrine Narducci, Matt Servitto, Michele Santopietro, Militza Ivanova, Paul Schulze, Sal Ruffino, Santiago Douglas, Sharon Angela, Tony Darrow
Episode Title: I Dream of Jeannie Cusamano
Air Date: 1999-04-04